Save the date: Wedding Open day at Crowne Plaza Limassol
You're invited on Saturday 08.04.23 | 11AM – 3PM |
Walk into the sea view Ballroom, be welcomed by a glass of Prosecco and swept away with our talented musicians and delicious canapés . Discover our amazing venues and meet our dedicated wedding planners in person. Surely, it's never too early to #savethedate. Let us be part of your ever-after. We #makeitmemorable at Crowne Plaza Limassol.
More about our Limassol wedding venues:
Gardens
Firstly, if you are planning your wedding in Limassol, discovering our lush terraced gardens right on the waterfront is an absolute must. They provide an elegant setting for wedding receptions and cocktails by the sea. Perched above the hotel's picturesque sandy bay, the gardens have their own private entrance provide easy access to wedding guests.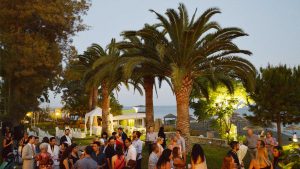 Pool Terrace
Imagine a beautiful overflow pool right on the waterfront. Then imagine making your grand entrance at sunset. Perched above the sea, the pool is perfect for hosting glamorous wedding receptions for up to 2000 guests. The upper terrace is used for the wedding reception while the lower terrace is reserved for the wedding cocktail.
Sea View Ballroom
Finally, the renovated Crowne Plaza Limassol Ballroom is considered one of the preeminent hotel ballrooms in Cyprus. Retractable glass panels span the southern side of the ballroom, offering a spectacular sea view unlike any other in Limassol. Featuring a neutral colour palette embellished with Vistosi murano pendant lights and Kartell Masters chairs, the pillar-free ballroom is an elegant canvas upon which we can undoubtedly bring your wedding vision to life.
First thing to remember: save the date – our Wedding Planners are looking forward to meeting you.
For more information or to RSVP:
EVENTS@CPLIMASSOL.COM | 25851515
WALK-INS WELCOME | APPOINTMENTS  RECOMMENDED.